New to blogging and Pinterest and looking for the best Pinterest course in 2021?
If you want to know how to make the best out of Pinterest, I'll tell you everything about this course.
Ell Duclos' course is definitely the best Pinterest course for new bloggers at a very affordable price too.
Here's a review of the course and why it has been a game-changer for me.
The Best (and affordable) Pinterest Course for New Bloggers in 2021 – A review of Ell Duclos' Pinterest course
Following my February Income Report, I realised I need to do something about Pinterest.
So I decided that in March I was going to invest in a Pinterest course for bloggers.
I started to do some research to find a good affordable course. Let's be honest, there are PLENTY of courses, especially among bloggers, but most of them are just too expensive when you're just starting out.
Usually, the rule is "you get what you pay for" but I just couldn't spend more than $40 on a course. I wanted something that could teach me some good strategies but yet, staying on a budget.
My Relationship with Pinterest
My relationship with Pinterest started in August 2018, when I first started blogging. I did my research and seemed a great platform to be on.
I learnt fast that Pinterest wasn't like other social media. It was a true search engine, just like Google. And here's the potential! When you post something it won't disappear. But it will remain there for other users to find when they search for it.
So, I opened an account, uploaded the profile picture, wrote a bio, created some boards, followed and got followed by people.
And I dig more into Pinterest: keywords, group boards, Tailwind, etc…
All great, but there was a major problem… My Pinterest wasn't growing! I was barely getting 2 followers a day.
And worst of all, it wasn't generating any traffic to my blog! All bloggers saying that Pinterest is their #1 source of traffic and I was barely getting 3 views a day.
It was clear to me that, I KNEW what Pinterest was but didn't know how to use it properly to bring visitors to my blog.
Looking for a course
As a good blogger that wants to invest in their education, I started to look for a Pinterest course.
And, I'll be honest, I was overwhelmed!! There were far TOO MANY courses to choose from. All covering the same topic.
So, I decided to narrow down the hunting using two criteria.
Number one was the price.
I'm happy to invest money in my education, but I don't want to get broke either. So my budget was around $40. If less, even better.
Number two were the results.
As I said, there are plenty of courses to choose from. But I wanted one with a proven track of what I was looking for. So I started to look for courses where I could learn how to bring traffic to my blog using Pinterest.
There are lots of cheap courses where they teach you how to get MILLIONS of Pinterest views. But, 2m of Pinterest views don't mean 2m in blog traffic.
Don't get fooled and do your research first.
Ell Duclos' Pinterest course for bloggers
This is where I stumbled in Ell Duclos' Pinterest course for bloggers. If you don't know, she's a blogger just like us, who transformed her passion into a full-time job. She used to offer Pinterest related services and now runs a blog on manifestation and self-discovery.
In simple words, I immediately get the idea that she knows what she's talking about.
So, I decided to have a closer look at the course as I shortlisted it into the best three I wanted to try.
One thing that convinced me to try her course, is her own results and clients' ones using her strategies.
As you can see below, these are screenshots from her blog views before and after. She increased traffic by almost 200% in just a month using her Pinterest strategies.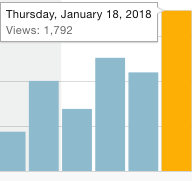 This is another screenshot taken from her Google Analytics and shows a 30-day result.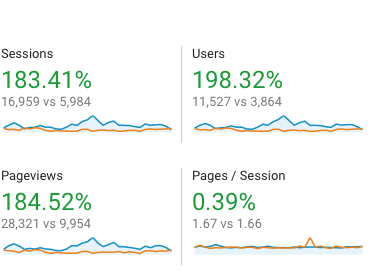 And if I wasn't convinced yet, she shows some of her client's result that are just mindblowing.

I even contacted Ell personally on Twitter to ask more about her course. She's been very helpful and replied straight away.
So, with all the validating information on my hands, I decided to not waste any more time and purchase the course.
Review of the course
The course starts from the very basic and is great if you are a complete beginner or, like me, you have some knowledge but don't know what are the right steps to take to get to the results you want.
It has 9 units and you can easily jump between them without having to go through the whole units.
For example, I already knew some of the things that she explained so I just clicked on a different unit without having to scroll down the entire course.
In these 9 units, Ell guides you through how to set up your Pinterest account properly, how to create pins that convert, the importance of group boards and how to use them, how to use Tailwind and some strategies and how to use affiliate links on Pinterest.
Trust me that every unit is well detailed and explained that will answer all your questions and even give you more knowledge than expected.
A great thing that I really loved about each unit is that she gives you practical examples of how to implement her strategies.
She doesn't just tell you "you have to do X in order to Y" but she actually takes the time to give examples on how you can do it with your account too.
She uses plenty of screenshots to guide you through Pinterest, Tailwind and even Canva. And she shares a lot of insider tips that you didn't even know could exist.
The course is delivered on the platform Teachable, so you can access it anytime and is yours forever! Plus, it offers affiliate sales, so you can recommend it and earn 30% of commissions on the selling price.
My Results
I devoured the course in a day cause I really wanted to implement all the strategies as soon as possible.
As I said before, I was barely getting any views and followers from Pinterest. In the best days, I was getting something like 8 followers and 5 views 😓 Yeah, pretty frustrating!
So, I took the screenshot below just the day after I implement her strategies on how to set up your account properly. I was shocked!! 22 followers in just one day!
And they kept steadily growing day after day.
But, apart from growing followers, the aim of buying the course was increasing (or even creating) views from Pinterest.
And I'm happy to say that thanks to this course I've nailed it and went even beyond my expectations!
Below, are screenshots taken the day before and the day just after implementing the strategies.
I went from 2 daily views to 28 daily views just by following her strategies!! And in the following days, one of my Pins went viral and made even 58 daily views on just Pintrest alone!
And, as I said before, I was barely making 5 daily views from Pinterest before implementing Ell Duclos' strategies.
Would I recommend this course?
Hell, YES!!!
As you've seen it has been a real game-changer for me and, honestly, I wish I did it before and not miss such a great opportunity of free traffic from Pinterest.
So, in a nutshell, I would advise the course for:
New bloggers who don't know what Pinterest is and how to use it;
Bloggers who have a bit of knowledge of Pinterest but don't know how to use it to drive traffic to their blog.
The course will teach you:
How to start a Pinterest account and properly set it up to bring you the most reach possible;
How to properly use Tailwind to your best advantage;
Pinterest strategies that will bring you a higher click-through rate;
How to make affiliate sales through Pinterest;
What it takes to make your blog traffic grow & target the right audience.
The investment
One of my main concerns was the price of Pinterest courses.
I'm happy to say that this course is very, very affordable for the value of what you'll learn.
Ell's Pinterest course is just $39, which is a very fair price for all the information, tips and strategies that you'll learn. (If you leave outside the US, the price might be slightly higher because of taxes).
You will be able to repay your investment in a couple of affiliate sales if you implement her strategies.
And remember that, because of the success of this course, she will probably raise the price very soon! So you better go and grab a copy now if you want to make the most out of your money.
In Conclusion
If you feel stuck with Pinterest and want to take your game to the next level, this is definitely the course you are looking for.
Don't waste your time on Google other alternatives. I've done it and there are none as good as this one!
Click the link here and grab a copy of this amazing course before wasting more time!